Corporate Theology
Tyler Velin preaches a sermon on Ephesians 3:14-21.
Scripture: Ephesians 3:14-21.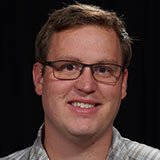 Tyler Velin has been on staff at Sovereign Hope since 2007 and an elder since 2015. He currently oversees student ministries and works directly with Grizzly Christian Fellowship. He is a graduate of the University of Montana and Western Seminary (Portland, OR). Tyler's passion is the preaching and teaching of the gospel and its significance in today's culture. Tyler and Sarah were married in 2011 and have a son, Owen (2012), and a daughter, Addley (2015).