The Glorious Goal of God's Story
Pastor John teaches a class on the Centrality of the Gospel.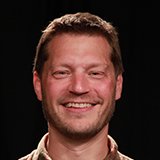 John Luhmann has served as a pastor since 1999 and has served at Sovereign Hope since 2005, where he focuses on the preaching/teaching and leadership of the church. He is a graduate of Wheaton College and Trinity Evangelical Divinity School. He is greatly blessed to be able to devote his life to the church and God's word and loves to see the fruit that God produces in people's lives through the gospel. John and his wife Korinda were married in 1994 and are currently raising their seven children.